Wednesday, April 21, 12:30 – 1:30 PM ET
Hosted by: Grace Cipressi and Sean Keenan (LITS: Educational Technology Services)
This presentation will explore ways to interact with technology to promote wellness. We will discuss ergonomic best practices for using technology, apps that encourage healthy habits, and Linkedin Learning course offerings about wellness.
Click here to register for the Zoom event.
After registering, you will receive a confirmation email containing information about joining the meeting.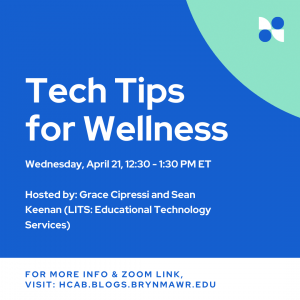 Resources:
Tech Tips for Wellness Resources List (App list)
Tips for Optimizing Dorm Workspace:
Put the items you use the most closest to you (for example, if you take notes on sticky notes, put the sticky notes in the front/central area of your workstation rather than to the side where you will need to reach unnecessarily.) In essence, think of yourself as a planet. The things you use most should orbit closer to you while the things you don't use as much should be farther away. Base placement around you, rather than placing yourself around the furniture/tools. Put things you write on in a location where your arm/hand naturally falls.
Consider putting important references up in a central area where your eye gaze will naturally be. (Example: if you are in a language class that you will be referencing a vocabulary list while speaking, tape that list up next to your screen so you can glance at it naturally while talking on Zoom. If you are referencing math equations while solving problem sets, put the reference sheet down next to where you are writing your homework. This prevents bending your head up and down unnecessarily.)
Lastly, a slogan in the assistive technology/ergonomic world is "your next move is your best move." Think about your movement patterns (where you will be moving next) and try to set things up to be more easefully arranged to support that. For example, if every time you check your calendar on the computer you start texting your friends about making plans, consider putting a stand for your phone near your computer so it's set up and ready to go (or using speech to text to write the text messages). In this way, you are planning for your next move of transition from looking at your computer to texting